Blog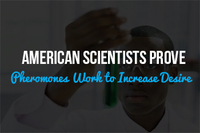 Some people settle for things the way they are. Others set high expectations that reality can never live up to.
In the quest for an improved and vital love life, these extremes hold true. Plenty of kind, lovable people just give up and sit on the sidelines when their longing for an exciting mate is not satisfied. Others look at every email spam promising a bigger this or a smaller that, even ordering products without knowing anything about the vendors.
Whenever you have a problem to solve, it pays to do some research. The sideline-sitters and the spam-shoppers would do well to consider scientific evidence before giving up or going wild.
Fact is, there is an effective, affordable way to improve your love life and your sex life, and it's been proven in careful research conducted here in the U.S.A.
Dr. Winifred Cutler, a psychiatrist, produced an excellent review of pheromone science in 1999. In the journal Psychiatric Annals, Dr. Cutler studied previous findings on human pheromones, and concluded that the topical (skin) application of human pheromone compounds is a useful adjunct to sex therapy for individuals seeking to enliven and improve the sexual side of their lives.
Since that article was published, her findings have been confirmed, not just in the scientific journals, but in the real lives of people who've had trouble finding mates. Dr. Cutler demonstrated that mediocre love lives are often due to diminished natural pheromones in the body. She wrote about various reasons for inadequate pheromones, including growing older, pelvic surgeries, and hormonal changes due to unknown factors.
Dr. Cutler believes that supplementation of your body's own pheromones with externally sourced ones can lead to improved attractiveness to the opposite sex.
For men, there are products that not only increase attractiveness to women, but help them command more respect in the workplace. The pheromone formulations that work for men typically contain Androstenone and Androstenols. Both can be safely applied to the skin, where one's own body heat will warm and disperse the powerful molecules that "talk" to the unconscious minds of potential mates.
For women, pheromone compounds containing Copulin increase their sexiness, and even increase a man's desire to be close and have intimate talks.
It's great to know that among all the snake-oil claims and email scams, there really is a scientifically supported set of products that work.
For more information on how the use of pheromones can change your life please call 1-877-PHERO-77 (743-7677).
To read about Latest Attract the Opposite Sex and Keep Their Interest with Pheromones .... click HERE.