TRUEPheromones™ – TRUE Instinct™ Pheromone Candle (With EcoSoy™)
Same amazing formula as our TRUE Instinct oil-based formula - Sex, sex, sex. Did we say SEX? – No other product on the market can beat this. Up until now the highest mixture of Androstenone was 5 mg per 10 ml bottle. Well, we took things one step further and decided to add 1.5 mg more Androstenone (highest sexual pheromone known to man) PLUS we threw in Androstenol and Androsterone for a totally different kick all in a slow release oil based formula. Hands down this product will revolutionize the way people attract women.
This product is an extremely well rounded product. It contains the 3 key ingredients necessary to attract ANY woman around you.
How to Use TRUEPheromones™ – TRUE Instinct™ Pheromone Candle (With EcoSoy™)
Our pheromone candles are designed to be burned for up to 24 hours streight before needing to cool off and form a solid again. You can re-light them as you please and fill the entire room with pheromones for any occasion.
Our Guarantee To You - Try RISK FREE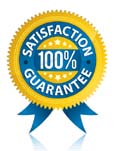 We Guarantee Our Pheromones will be Effective for you or YOUR MONEY BACK!
All TruePheromones.com products are of the highest quality and potency and we guarantee their effectiveness to you. However if for any reason you are not satisfied with the product we offer a NO QUESTIONS ASKED FULL REFUND policy.

Simply send back the unused portion of the product for a FULL REFUND, less shipping and handling costs.

We are so confident that we will give you a FULL YEAR (365 DAYS) to evaluate the product. That is 365 DAYS from the time you receive your order!
If you have any questions about our guarantee please call us directly at 1-877-PHERO-77